Press Release: HubCare Health announces the launch of additional care services to improve quality of healthcare in Africa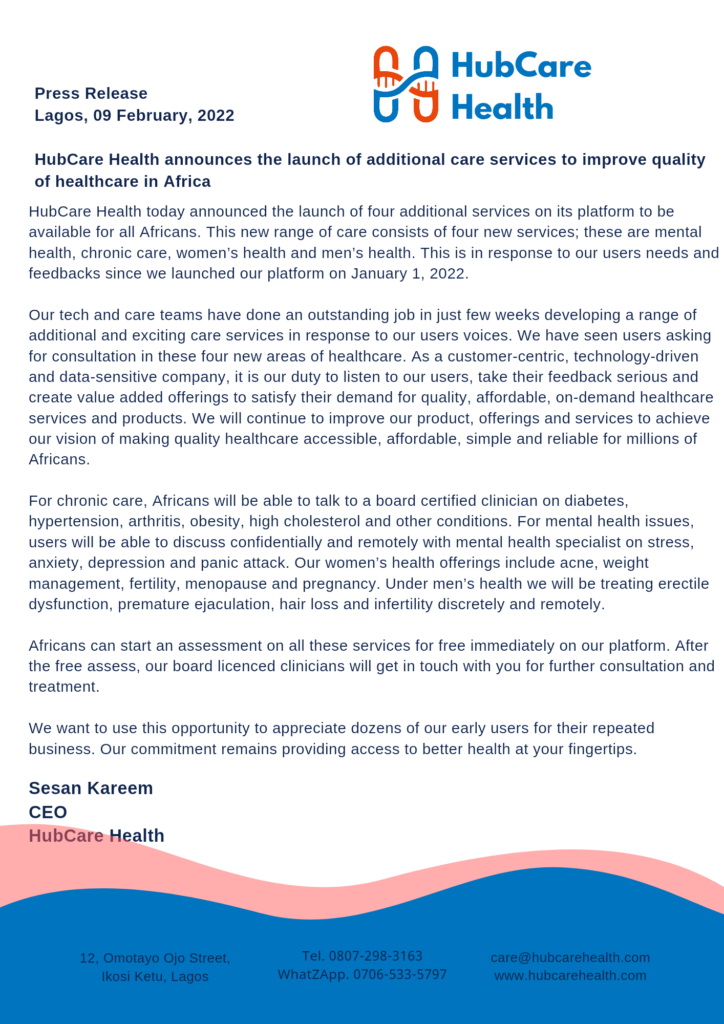 HubCare Health today announced the launch of four additional services on his platform to be available for all Africans. This new range of products care consists of four new services; these are mental health, chronic care, women's health and men's health.
This is in response to our users needs and feedbacks since we launch out platform on January 1, 2022.
Our tech and care teams have done an outstanding job in just few weeks developing a range of additional and exciting care services in response to our users voices. We have seen users asking for care in these four new areas of healthcare. As a customer-centric, technology-driven and data-sensitive company, it is our duty to listen to our users, take their feedback serious and create value added offerings to satisfy their demand for quality, affordable, on-demand healthcare services and products. We will continue to improve our product, offerings and services to achieve our vision of making quality healthcare accessible, affordable, simple and reliable for millions of Africa.
Africans can start an assessment on all these services for free immediately on our platform. After the free assess, our board licenced clinicians will get in touch with you for further consultation and treatment.
For chronic care, Africans will be able to talk to a board certified clinician on diabetes, hypertension, arthritis, obesity, high cholesterol and other conditions. You can start a free assessment for chronic care here
For mental health issues, users will be able to discuss confidentially and remotely with mental health specialist on stress, anxiety, depression and panic attack. You can start a free assessment for mental health here
Our women's health offerings include acne, weight management, fertility, menopause and pregnancy. You can start your free assessment for women's health here
Under men's health we will be treating erectile dysfunction, premature ejaculation, hair loss and infertility discretely and remotely. You can start your free visit for men's health here
We want to use this opportunity to appreciate dozens of our early users for their repeated business. Our commitment remains giving access to better health at your fingertips.
Thank you.
Sesan Kareem
Founder/CEO,
HubCare Health
Please follow and like us: