"We are democratizing healthcare INFORMATION for everyone in Africa by giving them tools they need to take control of their health FREE of charge, available to them 24/7, 365 days."
HubCare Health
THE SMARTEST SYMPTOMS CHECKER IN THE WORLD
Get instant free answers, reassurance and recommendations based on diagnosis and treatment data of millions of people just like you.
CONDITIONS YOU CAN CHECK WITH OUR SYMPTOMS CHECKER
Malaria
Typhoid
Cold and flu symptoms
Back and neck pain
Anxiety
UTIs
Rashes
Indigestion
Allergies
Dental Infections
Fatigue
Asthma
Sinusitis
And hundred more urgent and chronic conditions
How Our Symptoms Checker Is So Smart
Powered by AI
Our symptoms checker solution is built to sort through millions of anonymous medical data and compare it to what you enter in the system
High Efficiency
Our symptoms checker solution is 93% accurate, without human bias, we ask the right questions and we are able to treat the whole you and not just your symptoms.
Millions of Users
Our symptoms checker solution had been used by over 5 million people like you globally for diagnosis and treatment.
Developed By Medical Doctors
Our solution is developed by Swiss doctors, data scientists, medical researchers and data engineers who have extensive experience in healthcare delivery.
Do you need Care after your Check?
Our Symptoms Checker can help you decide if…
Your persistent headache is just a headache or something more
You should take Over the counter drugs or prescription
Your child has a standard cough or should go and see a pediatrician
You need a self-care, see a doctor or need an Emergency Room
If the symptoms checker recommended you to see a doctor for further diagnosis and treatment. Take the following ACTIONS
After using the Symptoms Checker for pre-diagnosis to have better INFORMATION about your health. Screenshot your RESULT.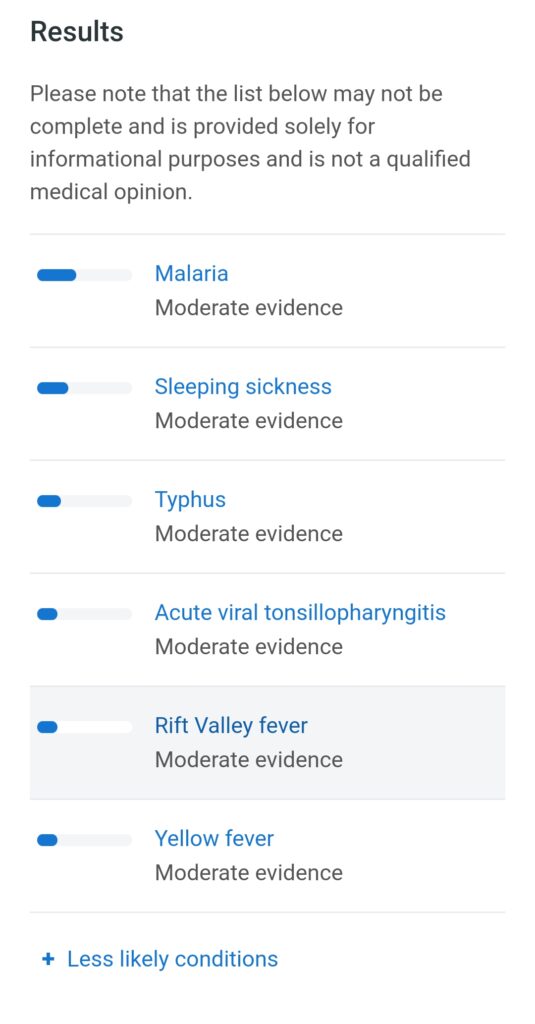 Send us your RESULT through our WhatsApp contact +2347065335797 or click here.
We will link you to some of the best doctors in Africa on HubCare Health for further diagnosis and treatment.